Honor your cherished cat, dog, hamster or other beloved animal with a custom pet marker – designed and installed by experienced monument craftsmen in Pawcatuck CT.
Multiple colors
Flat, slant & upright
Granite, Bronze & Marble
Add faithful photos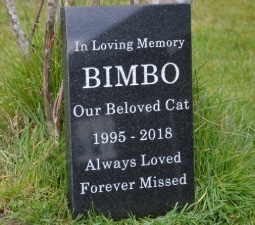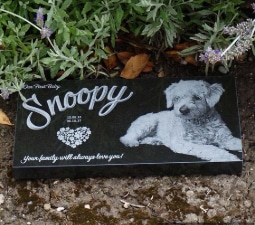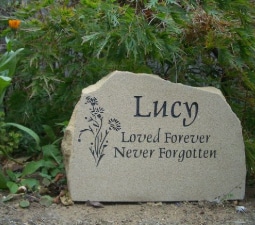 Let us discuss your fitting tribute
When people bury their pet in their yard many chose to mark the spot with a beautiful pet gravestone. Personalizable with your pet's name, date of birth, photo and special messages you can create a truly personal and fitting tribute.
From our workshop in Pawcatck – close to Westerly, Buzzi Memorials have been designing, carving and delivering custom stone markers and memorials since the 1930s. Our friendly and experienced memorialists offer an experienced hand to help you come up with a fitting tributes for your lost loved ones – and that's no less important for our beloved pets. Our pets spend many years with us, often as integral parts of our family. Most pet owners would agree that their pets all have their own distinct character and desire to honor this with a lasting stone marker.
If you are unsure where to begin, or already have some ideas for what you'd like your pet marker to look like, we are here and ready to discuss your options. We can work within a broad spectrum from simple flat markers to upright stones with elaborate embellishments. Let's discuss your options today with a friendly, no-obligation chat.
Stone Available
Choose From Granite, Bronze and Marble
Colors Available
26 premium color choices available.
Common Questions Answered
Yes we can, laser etching and sandblasting allow us to recreate complex photos. We can also carve stone into multiple 3-D shapes.
Yes we are happy to sit down with you and come up with a design based on your suggestions.
Got a Question for our Memorialists?
860-599-5909