Buzzi Memorials offers personalized headstones from the highest quality stone materials and designed by expert craftsmen.
Single headstones
Double headstones
Ledger headstones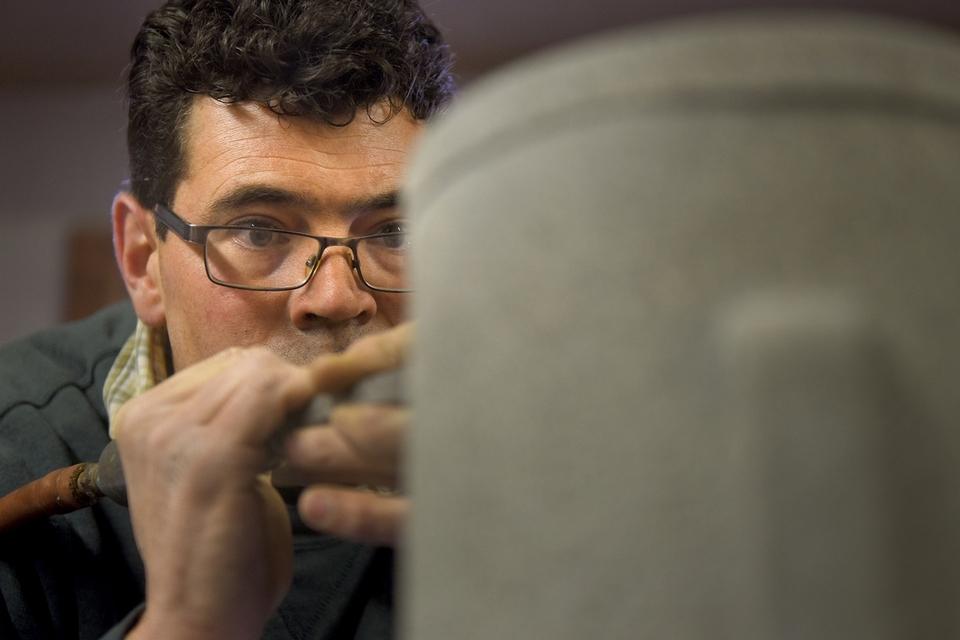 Craft a Lasting Memorial for Your Loved One
Customize a headstone with confidence, with help from our skilled specialists. Create a lasting headstone, gravestone or tombstone that serves as a fitting tribute to your loved one. Buzzi Memorials uses the finest grade granite from Barre, Vermont – trusted in the industry for it's durability, preference to carving and ease of maintenance.
Custom Headstone Options
Custom inscriptions
Carved symbols and embellishments
Photo reproduction
Single or double headstone
Various sizes and shapes
Custom shapes available
Colors Available
26 premium color choices available.
Samples of Past Headstones
Slide Anything shortcode error: A valid ID has not been provided
Handcrafted in Pawcatuck CT – What to Expect
A custom headstone is completely unique to each individual, and their story. When you meet with our headstone specialists we will take down your ideas for the words you want to say, the things that were important to them and any embellishments that can show their story. We will then proceed to craft a fitting tribute that will honor your loved one for generations to come.
Having the right gravestone players a key role in how you honor your loved one for years to come, in knowing this we provide great care and attention to all headstone design, uniquely crafting an intimately personalized memorial for each lost loved one.
Once designed and crafted, Buzzi Memorials take care of matters such as cemetery installations and delivery so you can be confident that the necessities are all handled. If you have any concerns at any time, we are only a phonecall away.
Our goal is to create the perfect memorial for your loved one. From coming up with initial designs to setting the stone in it's new home, you can expect a experienced guiding hand who will listen to you, and provide expert advice when you want it.
Experienced Care for your Headstone
Buzzi Memorials take care in providing customers with everything they need to maintain a clean and proud headstone, from professional cleaning, repair and restoration to resetting and straightening headstones.
Common Questions Answered
While helpful, it's not needed. We can obtain the information that we need for your memorial from the cemetery.
No appointment is necessary. Our office is open Monday thru Friday from 9 am to 5 pm and Saturdays from 9 am to 1 pm. If these times are not convenient we will do our best to accommodate your schedule and set up an appointment in the evening or on a Sunday.
We take care of everything, including ordering and paying for the foundation. Naturally, we also determine if there are any special requirements for installing your memorial.
Prior to producing a memorial, we make a drawing for your approval. In this way you see your precise design choice and lettering on paper prior to any engraving being completed. This is your opportunity to verify the information, look at your design layout and if necessary make any changes.
Typically, markers take three to four weeks. Most monuments normally take four to six weeks to complete, although some, depending on their shape and design, may take longer.
Cemetery lettering, because it is done outdoors, can be delayed by bad weather. For this reason we say a job may take from three to six weeks to be completed.
Even though we do not install monuments or engrave at the cemetery in the winter months, we suggest you still visit our showroom to see what we have to offer. We are open all winter long. We still proceed in completing the necessary paperwork and producing your full size drawings. We finish your memorial for installation in the early springtime.
Planning what to include on a personalized headstone is not something to be rushed and we are here to talk you through your options. We also provide helpful advice on our
blog
.
Have Questions about a Custom Headstone? Ready to get started?
860-599-5909
`